Bathroom Designs – The Beauty of Keeping it Simple
on September 29, 2020
No Comments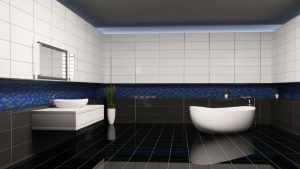 Is it time to modernize your Oakland County MI bathroom? It can cost a lot of money to remodel, but it is possible to keep it simple, affordable, and still get what you want. Here are some ideas for bathroom designs in Oakland County MI to make the process a little easier and less expensive.
For Small Bathrooms
Some bathrooms are tiny, and you have little space to work with. However, this does not mean you cannot make some impressive changes. Forbes Magazine recently published an article on tips for making small bathrooms better. For example, when space is at a premium, it is a good idea to install a corner sink in your bathroom. A pedestal sink can get in the way, but a lovely corner sink blends in without disrupting the flow of traffic.
Use the Door
All bathroom designs in Oakland County MI include towel storage, but towel bars can take up more space than you think. It is sometimes hard to find the right place for your towels when you have a tiny bathroom. This problem is often solved by mounting your towel bars on the door. If you have a hollow core door, you need to install anchors before installing your bars. This keeps them firm and secure.
Normal Size Bathrooms
If you have enough space, consider shelving as opposed to extra doors or cabinets. You can place shelves just about anywhere in the room. They can go on walls, and they make special shelving to fit behind toilets.
Talk to Bathroom Designs Professionals
Do you want some custom features for your bathroom? Maybe you are not sure how to fit everything you want into the room. Talk to bathroom upgrade specialists in Acorn Kitchen & Bath about your needs. They can give you just about anything you want, and it may not cost as much as you think.
Connect with us on Facebook and see our latest news and updates!