Which is Better: Ace or Apex Exterior Paint?
on April 25, 2018
No Comments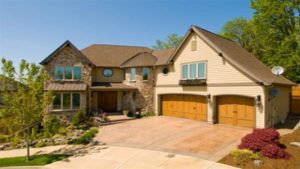 Getting ready to paint your exterior surfaces and can't decide between Ace and Apex paints? Here is a direct comparison, as well as what a professional painting contractor might recommend that you choose!
Weighing Your Options
Let's compare Ace and Apex directly for several of the most common concerns consumers have, so that you can choose the ideal outdoor emulsion for your needs:
* Shade Range: Ace paints offer consumers over 1600 gorgeous, versatile shades to choose from, but Apex tops this number with over 1800. This range includes dark shades that are excellent for hiding previous stains and damage as well as potential future staining.
* Wash ability: Both Ace and Apex have similar ability to be washed when staining occurs, but Apex pulls slightly ahead in this category.
* Anti-Algal Resistance: Both Ace and Apex offer anti-algal performance that surpasses many other types of paint. However, Apex pulls ahead here with a rating of "excellent" in this category, while Ace ranks only "above average."
* Coverage: Coverage for both of these paints is essentially identical, with two coats covering five to six square meters per liter on average. Keep in mind; this will vary based on a variety of factors and should be used only as a guide when purchasing your paint amounts.
With all of this presented, it's clear to see why many painting companies love both Ace and Apex paints, with Apex edging past its competition only slightly. Ultimately, you should consult your local painter for specific advice on which type of paint is best for your budget, your needs, and your colorful dreams!
Ready to Paint?
Once you've made your decision – or even if you're still struggling – it's time to contact local painting companies for additional advice. ESP Painting of Portland, OR offers business painting and outdoor surface refinishing. If your office building, residential complex or other large structure needs a fresh coat of paint, trust ESP Painting to give you the results you're looking for. With everything from wood refinishing and staining services to pool and deck painting and much more, there is nothing this professional painting contractor can't handle. Contact them today for personalized advice on which type of paint is best for your project – and a free painting estimate, too!
Like ESP Painting on Facebook for more news & updates!