Update Your Home With Easy & Attractive Vinyl Flooring
on April 20, 2016
No Comments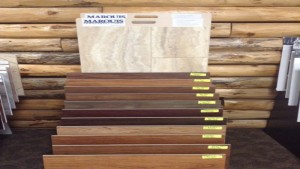 Vinyl flooring is one of the best options for flooring when it comes to remodeling and updating your home. Many homeowners today are searching for fast and convenient solutions to their home remodeling needs. Vinyl flooring can be installed for a fraction of the costs of other types of flooring. In addition, it can even be done without the need for a professional's help. Any homeowner searching for the easiest and most efficient way to update their flooring, should consider the benefits of vinyl flooring.
Benefits of Vinyl Flooring
Vinyl flooring has many benefits and should be a serious contender when deciding between other flooring solutions. Some of the benefits of using vinyl flooring in your home include:
     *     Easy to clean
     *     Simple to maintain
     *     Can resemble other flooring materials such as wood
     *     Long lasting for many years
     *     Very little upkeep
With so many benefits, it is easy to see why vinyl floor is so often chosen when it is time to update one's flooring. For more advanced flooring solutions, wood and tile can also be excellent considerations although the cost of these is much higher.
Can be placed over existing flooring
Its great to know that vinyl flooring can be placed over existing flooring in your home or office. There is no need to worry about waiting for a very long period of time to have your flooring look the way you want it to look. That is one of the major benefits of having vinyl flooring installed in your home.
Change your home's look easily
If you are bored of the way your home looks and you aren't sure exactly where to start, it may be easier than you think. Simply set up a consultation with a vinyl flooring installer to get started with refreshing the appearance of your home today.
Carpet Clearance Warehouse is your number one source for high quality vinyl flooring solutions. Visit them online to get the best deals at carpetclearancewarehouse.com. You can also connect them on Facebook for more updates.