How to Attach the Blade to the CobraHead Long Handle
on May 31, 2016
No Comments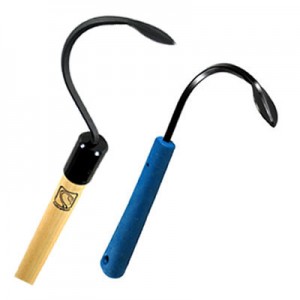 The CobraHead Long Handle is an ergonomically friendly, high quality tool made-in-the-U.S.A. and utilized for a broad array of growing and gardening tasks, which include edging, digging, weeding, and more. This video demonstrates how to attach the replaceable blade to the tool's long handle.
Cobrahead Long Handle utilizes the same extremely sharp tool as the regular Cobrahead except it's connected with an extended pole. It is extremely popular for the ones who have bad knees or are covering a large area.
Sharp blade will cut through hard soil.

Unique blade angle and shape makes it a very effective weeding tool

Single blade cuts tough soil more easily and with less resistance than wide hoes or multi-tined tools.

Great for weeding in snugly spaced crops like onions, in which many hoes are too broad to be effective.

Very efficient tool for cutting off or scalping weeds at ground level.

Works around drip irrigation or additional snug areas.
The CobraHead Long Handle blade is strong, sharp, and thin. However, because of its thinness, it isn't indestructible. It is not made for pulling dandelions out of your lawn or removing large roots and plants.
The CobraHead Long Handle is a tool best utilized for horticulture, gardening, landscaping and agriculture. Its blade includes a "steel fingernail®" which makes it an efficient cultivating, weeding, planting, and digging tool. It cultivates, weeds, de-thatches, scalps, digs, edges, and easily furrows. The CobraHead Long Handle allows you to accomplish most weeding chores while standing, as many gardeners will discover. It is especially useful for older gardeners, and the people with difficulty getting on their knees or bending over. CobraHead Long Handle contains 3 handle length options: 48-inches, 54-inches, and 60-inches. The 54-inch handle is standard. Gardeners 5'2″ and below might prefer the 48-inch handle. Gardeners over 6'2″ might prefer the 60-inch handle.
For more information contact CobraHead at 1.866.962.6272.