Finding the Best Shower Door That Blends With Details of Your Bathroom
on August 28, 2019
No Comments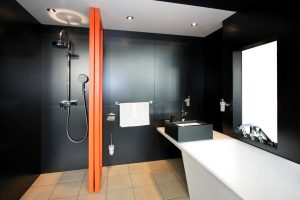 Although a curtain is convenient for your shower, a door is an option to consider as well. When you begin choosing different types of shower doors, consider the space that you have and the other details that are in the room, such as the lighting. Examine everything from the hinges to the maintenance of each type of glass before making a final decision.
Large Showers
If you have a spacious shower, such as one that might be in your master bathroom, then you might want to consider a door instead of a curtain in order to keep the room from being too dark. The glass from the door will allow more light to shine through the room, making it appear as though it's larger in size and not two separate areas.
Types of Glass
One of the considerations about choosing different types of shower doors is that you need to know how difficult they might be to clean. You also need to look at the clarity of the glass as there are some types that are opaque while others have details etched into the glass while still delivering a clear appearance. Antique glass is an option to consider for your shower as it offers the details that you might want while still letting plenty of light filter through.
After Installation
Once the door is installed, you can begin adding the details that you want to the door, such as knobs, handles, and even one or two racks for a towel or washcloth. When you're cleaning the glass, you want to use even strokes to prevent streaks from forming while using glass cleaner instead of soap and water. Avoid abrasive materials as they can scratch the glass. Make sure the door securely fits the shower once it's installed to keep water from getting on the floor.