Create an Awesome Visual Appearance for Businesses
on October 24, 2016
No Comments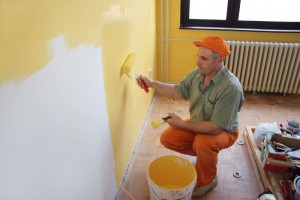 There's nothing quite like a first impression. They can make you immediately more or less inclined towards a particular product, service, or person. They're incredibly powerful and, as the name would imply, you only get one. So it's incredibly important to grab your chance when it presents itself. Your business décor is one of the first things any potential client is likely to see, making it a prime way to make a great first impression.
Here are a few ways a commercial painting contractor in Jackson, NJ can help you do just that.
The Power of a Pristine Appearance
One of the biggest mistakes businesses make is to undervalue the importance of a good coat of paint. "It's just painted," you may say. Well, again, getting ahead in business depends in large part on the ability to make a good first impression and inspire confidence in clients. This will be rather hard to do if your place of business is painted over in cheap swaths of something off the shelf or if your walls feature paint which is dirty, drab, and peeling. Hiring a professional commercial painting contractor is a great way to make sure that your place of business maintains a professional look about it. What's more, the ability to invest that kind of effort into your business's appearance says something both about the financial prosperity of your business and your dedication to appearances and quality.
The Artistic Touch
A commercial painting contractor like JA Painting and Decorations LLC can also help to give your walls a bit of an artistic bent. Adding bold shades of color and texture to your walls can help them "pop" a little and that subtle hint of quality can speak volumes to a potential client.
Give your business the best appearance possible with a trained and experienced commercial painting contractor today.