Countertops in The Villages Display Materials Such as Granite or Quartz
on July 2, 2019
No Comments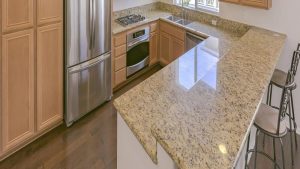 If you want to change the looks of your kitchen, you generally have to begin with the cabinets and tops of the counters. To make an impressive statement, you need to choose counter materials that are made of granite, marble, quartz, natural stone, or an exotic stone.
What Material Do You Want to Use?
Countertops in The Villages are trending today as they feature all of the aforementioned materials. Probably the most popular countertop materials are granite and quartz. Quartz is usually priced lower but still conveys a granite look.
A Customized Look and Feel
Most people like the look of granite for countertops as it does not offer a template design. This natural stone impresses people as it is easy to maintain and polishes up nicely. You can always cover your counter with a less expensive material but you will not add to the value of your home.
Increase Your Home's Overall Value
When you choose more expensive materials for countertops, you will increase the value of your home overall and draw more interest from potential buyers. Even if you don't plan to sell your real estate, using a material such as granite will add to the aesthetics of your kitchen's design.
Who to Contact Locally
Whether you want to improve your lifestyle or want to increase the value of your real estate, you can easily do so by contacting the right kitchen remodeling company. Go online and review kitchen renovations and products. Click on us today. See for yourself why adding a granite or quartz countertop is the right renovation to make.
Once you've decided on countertop materials and cabinetry, you can add the sinks and appliances. By using a full-service company, you only need to go to one source for all the products and materials. Take time now to review the selection and plan a kitchen renovation for your house.