Why our painters are a cut above the rest
on April 18, 2017
No Comments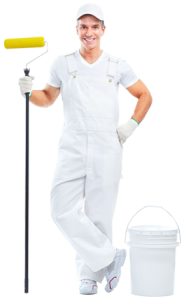 Any company can claim to offer quality interior painting, but the difference between the best and their followers is what their professionals have to offer. Here are some of the qualities that our painters have over the rest of the industry.
Honesty
Everyone has an idea of what they would like their house to be. Ultimately, though, it is the professionals that are in the best position to make those judgment calls. The best painter is the one that will be able to tell you the truth about the color choices you make, and whether they will be able to achieve the atmosphere you would like with the room you have chosen.
Versatility
The best in the business must be versatile. Not many people realize it but painting, be it interior or exterior requires a wide range of skills and different types of equipment. The best painter is the one that is competent with the roller, can work with the paint brush or the spray gun. Most people also prefer professionals that can do both interior and exterior painting jobs.
Listening and communication skills
Most of the time, it is the painter who will know more about paint than the owner. Still, for the perfect outcome, the painter must be able to listen and communicate with the homeowner properly. The best in the business will listen to the needs of their clients and ask all the necessary questions in order to understand the client demands. They should be able to answer any questions the client might have, and suggest suitable products or methods and related tasks that will have the job completed just as the client demands it.
Courtesy
Chances are that for majority of jobs any painter takes, they will find themselves working in a home setting. They might have to deal with a single homeowner or their family, but they have to do this with the utmost respect and courtesy. The best painter will always punctual and respectful of the choices that the client makes. In the painting industry, just like in many service based industries, many clients are found by word of mouth. One's marketability by word of mouth is greatly dependent on how courteous they are.
Most people only need paint jobs once in a few years, and when it is done excellently, the results are a sight to behold. Call Martin's today for a quality paint job, or visit the company website for more information.