Why Choose a Wrought Iron Door for Your Entryway?
on September 15, 2015
No Comments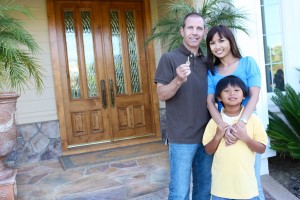 Have you checked out your front door lately? Maybe it could use some paint or the door locks are loose and need to be replaced. There could be a number of problems with your entry door and you might want to replace it with something much better. You'll discover a wide range of benefits when you go with a wrought iron door and here is why.
Appearance
When people come to visit, the front door is the first thing they encounter. If you are trying to make a great first impression your door can make all the difference in the world. Imagine the look on their faces when they encounter your elegant and majestic wrought iron door.
A lovely and well-made front door literally speaks for you. It says, "Come in and see the rest of this beautiful home."  This fills the guest with positive anticipation.
On the other hand, a faded or dented door may be saying, "My owner doesn't care about me, and the rest of the house is in no better condition. Do you really want to associate or do business with these people?"
Maintenance
Are you tired of painting your entry door every few years? Also, after a while, the hinges may become worn and this can make a door hard to open and close. In fact, it can sometimes cause a door to become stuck.
Your wrought iron door is easy to care for. It has been finished to withstand the test of time. Quality doors can deal with rain, snow, sleet, and survive all kinds of temperature extremes. You won't have to worry about refinishing and the hinges are heavy duty with ball bearing construction.
Security
Do you know some people are still using hollow core wooden doors on the exterior of their homes? Even solid wood can be bashed in by most people, and the reason is simple. A door's weakest point is where the latch meets the door jamb, and wood cannot take a great deal of abuse.
You might decide to install a simple metal door, but if the door jamb is made from wood, it will not be secure. However, a wrought iron door is very heavy and made with an iron jamb. This kind of door cannot be kicked in very easily. In fact, when thieves see your well-built door, they may decide to try another house.
Buying Your Door
When you choose a wrought iron door supplier, go with a company known for quality. Also, look for 10 year warranties and companies who can guarantee you the lowest prices on iron entry doors.
To know more about Iron Doors Now visit us on:
Iron Doors Now on Yelp
Iron Doors Now on Facebook
Iron Doors Now on Twitter
Iron Doors Now on Pinterest
Iron Doors Now Blog
Iron Doors Now on YouTube
About Iron Doors Now
Iron Doors Now on Yahoo
Iron Doors Now on Kudzu
Iron Doors Now on Houzz
Iron Doors Now on BBB
Iron Doors Now on Manta
Iron Doors Now on Vimeo