For a Budget-Friendly, Modern Look, Choose Canadian Made MDF Cabinets
on July 26, 2021
No Comments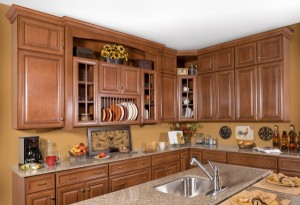 Solid wood cabinet doors seem like a superior choice over MDF board; wood has been used for thousands of years and can last for centuries. However, while that's true, sometimes, the MDF board might be a better choice.
If you want to save money on bathroom remodeling, but don't want to sacrifice quality, MDF cabinet doors could be the answer. MDF is an engineered wood product, known for its strength, smooth finish, and warp resistance. Its resistance to moisture and warping makes MDF cabinet doors ideal for not only bathrooms but also kitchens.
If your kitchen or bathroom design depends on beautiful, natural wood grain, then MDF is not the right choice. MDF cabinet doors are always painted or finished with a laminate. But, if your design revolves around simple white or a bold color, then MDF is perfect.
Flat paneled doors, Shaker-style cabinet doors, raised doors and inset doors can all be crafted from MDF. It is a very versatile material that adapts itself to many applications.
However, one downside to MDF is that it's prone to scratches and gouges, and unlike wood, those can't be sanded out. However, you might be able to fill scratches and gouges with putty and paint over them.
Overall, if your dream kitchen or bathroom involves sleek, smooth solid-colored cabinets, MDF is the right choice. It will not only save you money but also last a lifetime.
Lovech Ltd in Ontario, CA, is a leading maker of MDF kitchen cabinets and door panels. Our wide variety of door styles and MDF products, great customer service, and a vast selection of customization options are sure to please your company and your customers. To ensure we make the highest quality products, we stay up to date with the latest materials and technology. This means utilizing only the best machinery and partnering with the pros. For more inquiries, visit their website or contact them today.