Common Reasons for Using Draperies in Sarasota, FL for Your Windows
on April 29, 2020
No Comments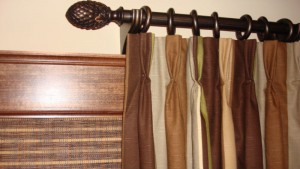 Using window treatments like draperies help to keep your room cool in summer and warm in winter. Draperies also provide personality to any space. Draperies are used to filter light or block light when necessary. They complete a room by adding elegance, soften the look of the room, and personify style.
Reasons for Using Draperies
* Draperies provide insulation from the external climate: Draperies across windows help to keep your room cooler in the summer and warmer in the winter. Thus, draperies help to control the climate by adding layers of insulation. Draperies save energy.
* Draperies protect your home by blocking harmful ultra violet rays: Furniture, walls, floors and carpet are vulnerable to fading and damage when exposed to UV rays over a long period of time. Draperies help to prevent this by blocking these harmful UV rays.
* Draperies block energy from escaping through your windows: Just like protecting your home from the outside, draperies in Sarasota, FL also protect your home from the inside. For example, during winter, draperies prevent the heat within the room from seeping out through the windows.
* Draperies give a distinctive style to your home: Draperies give you an opportunity to personify your style and enhance the look of your home. You can choose draperies to be luxurious and exotic, casual and crisp, light and breezy or complicated and layered.
* Draperies impart privacy: Draperies, no doubt, provide the much needed privacy to your home. Draperies also obstruct visuals and provide insulation from sounds. A variety of fabrics and styles can be used depending on the level of privacy you require.
Blinds and Designs of Florida, Inc. is committed to providing the finishing touch to your windows through our wide range of draperies to choose from. Draperies are custom-made by us, one at a time, with meticulous attention to detail. Our designers will provide a perfect solution for all your simple or sophisticated windows covering requirements.