Are You Renovating Your Cabinet Doors, Choose MDF for Your Dream Kitchen
on March 23, 2018
No Comments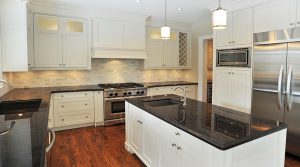 Your kitchen and dining areas are most likely the centerpieces of your home, so it's essential that they feel right for you. Whether you're redecorating, renovating, or installing entirely new units, you want a unique style that reflects your taste. Opting for MDF, custom made or otherwise, is a great way to create a stylish room that you feel at home in. These cabinet doors put you in control of the final look, and you can create the ambiance that you want.
Why MDF?
Medium Density Fiberboard – otherwise known as MDF – is a versatile and durable choice for your cabinet doors. Made from recycled wood waste, MDF is an environmentally friendly way to style your home your way. It can also be a more cost-effective option than fresh wooden doors, but still delivers the same authentic look and feel of real wood. There are a range of designs and styles for you to choose from, including flat and raised panel doors, one-piece doors, and a variety of edging profiles, which helps you get the look you've always wanted. With so many options, it's easy for you to match your new cabinetry with the décor and furniture in the rest of your home. Experts in design and installation can offer advice and guide you to make the right decisions.
Custom Cut Cabinetry
Choosing custom cut pieces for your home allows you flexibility and control over the whole installation process, from the initial design stages all the way up to the final fittings. Picking from a catalog is a perfectly viable option, but the discerning homeowner knows what they want, and custom components are the best way to get it. A customized kitchen stands out and reflects the unique ideas and personalities of those who use it. Stock cabinets sometimes just don't meet your specifications, which is why a customized service is preferred by many who know what their dream kitchen should look like.
Consider new cabinet doors today. For high-quality MDF cabinet doors options, contact Lovech Ltd online.