5 Benefits of Outdoor Kitchens in London
on June 17, 2020
No Comments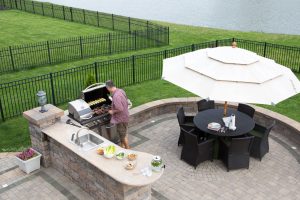 It is a common sight to see families cooking outside. In the United Kingom today, this trend has become popular. Homeowners are installing kitchens outside of their homes in their backyards or on their decks to help them enjoy wonderful meals with family and friends in the fresh air. If this type of setup interests you, it might be worth looking into the benefits of outdoor kitchens. London homeowners can benefit from the excellent features and advantages these kitchens provide.
Increases the Value of Your Home
Due to the popularity of this form of home improvement, homeowners choosing to add one of these kitchens to their home can elevate the value of their home. In addition, a number of the patio appliances and barbecue grills today are manufactured from stainless steel, which enables them retain their integrity regardless of the changing seasons and temperatures. In addition, stainless steel is easy to clean. With a fully functional outdoor kitchen, you can enjoy many outdoor get-togethers for years to come.
Enlarges Your Living Space
Outdoor kitchens in London remove the need to add rooms and walls with a roof onto your existing home structure. You can simply use the space you have available on your back porch or deck. If you have an existing covered patio, all the appliances necessary to complete your outdoor kitchen can be brought into this space.
Excellent for Entertaining
This is an area in which you and your family can celebrate any occasions including holidays and birthdays. Or, you may simply just enjoy the outdoors with a great meal every so often. Everyone can gather around the grill and socialize as dinners being prepared. With outdoor kitchens, you can also add outdoor furnishings, patio heaters, and possibly a string of lights to enhance the décor of your space.
Reduces Your Utility Bills
You can reduce your electricity bill by spending time outside during the summer. When you and your family and friends spend much of the day for the entire day outside, the need to cool your home becomes less necessary. As well, when you cook food outside, you are not heating up the indoor air in your home which can require the AC to work much more often.
Keeps Food Smells Outside
There are some aromas from foods and spices you may not prefer fill up the interior of your home, such as fish, etc. These aromas can linger for quite some time. However, preparing these foods outdoors can eliminate this problem.
With an outdoor kitchen, you will have a whole new way of enjoying the outdoors as well as the company of your family and guests.